Jessica and I are hiking the John Muir Trail which we will follow for 238.8 miles through 6 federally protected areas including Yosemite, Kings Canyon, and Sequoia National Parks. Before the trip we prepared a quick summary of our plans for each day. That way our parents curious folks can follow along. Use this link to see all of the posts. Today is day 12 of our hike.
Today we are hiking from Marie Lake over Selden Pass to Muir Trail Ranch.
| | | | |
| --- | --- | --- | --- |
| | Miles | Feet Elev. Gained | Feet of Elev. Lost |
| Today |  7.73 | + 616 | – 3510 |
| Cumulative | 128.68 | + 32,388 | – 29,809 |
By camping at Marie Lake last night, we set ourselves up for an easy morning climb over Selden Pass. At the crest, we should be able to look back at our campsite from the night before: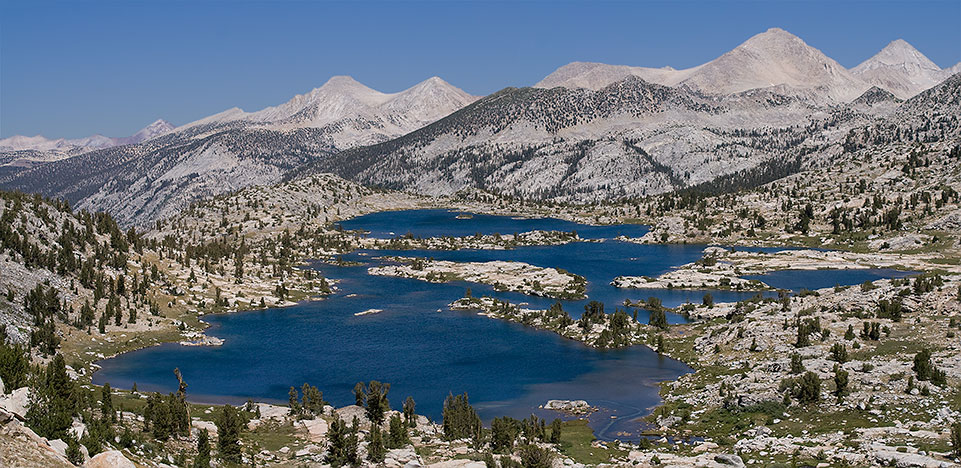 From Selden Pass, we are walking straight downhill to Blayney Meadows where Muir Trail Ranch is located. We couldn't be more excited for MTR (thanks Lizzie + Chris and Doug + Elizabeth) where we'll spend two nights. They provide all of our meals, mattresses, plumbing, and some epic hot springs. We'll see you in two days!