In college, my best friend, Marina, always had a thing for elephants. That sounds strange, but I promise it's not as weird as it sounds. Her favorite stuffed animal from childhood was an elephant and she had a few elephant figurines. She also happened to get quite giddy when she saw pictures of baby elephants. Although you can't really blame her; they are cute.
To be honest though, I never truly understood how one person could be so enamored by a particular animal. Her delight and awe with these pachyderms didn't completely make sense to me. That is until one fateful day when I realized, I have a similar obsession…with owls.
While I don't own an owl stuffed animal, I do adore all other owl items. Last year, I bought an owl figurine at our local consignment store to place on one of our bookshelves (Tyler is still shaking his head over that one), and I recently acquired extremely cute owl salt and pepper shakers from West Elm* (Thanks Barbara!).
If you are like me, and love owls, here are some other items to have a "hoot" over (Sorry, I had to do it!):
Owl Coin Purse**
Originally @ Fossil (sold out); In stock @ Nordstrom (Yes!)
Owl Cookie Jar
West Elm
Owl Sweater (Kids)
BodenUSA
Owl Bookends
ZGallerie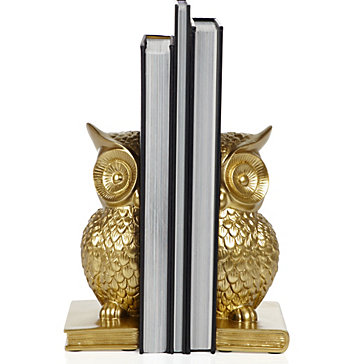 *West Elm is the home for all things "owl" right now. I wanted to show items from a variety of places, but check out their stock online; it is incredible.
**It requires all of my willpower NOT to purchase this item. AAaaaaaaaaah!