Whenever the warm weather rolls around, I immediately think of tote bags. Obviously, summer is prime beach weather and tote bags are the perfect cary-alls for such outings. Throw in a pair of flip-flips, a towel, a book, your sunscreen and you're good to go! That being said, I've never really owned a summer tote bag, so I've had to do a lot of research to find the perfect one!
In this process, I've realized two important things about summer totes. One is that straw/canvas are the best materials. Canvas is super sturdy, while straw is light, allowing air to circulate through the bag and little sand to accumulate inside. Secondly, summer tote bags should have bright colors and and/or interesting patterns. Summer = playful.
To that end, I have been on the hunt since March and finally found six options that meet one or both of these criteria:
Originally, I was leaning towards the bag from Banana Republic (top center). I loved the colors – very beachy – and the unique pattern. My second favorite was the blue and white striped bag from Pottery Barn (
similar
). The colors, stripes and material all evoke that nautical feel which is also very appropriate for summer.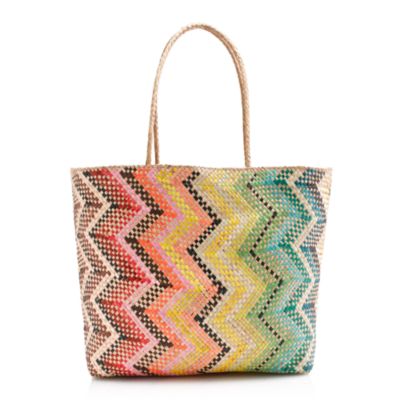 I love the colors and the pattern even more than the one from Banana, and the price was totally doable – $88! In fact, I loved it so much that I purchased it right away, which definitely tells you something because I rarely buy anything when it's full price. Isn't she tote-ally worth it?!?!